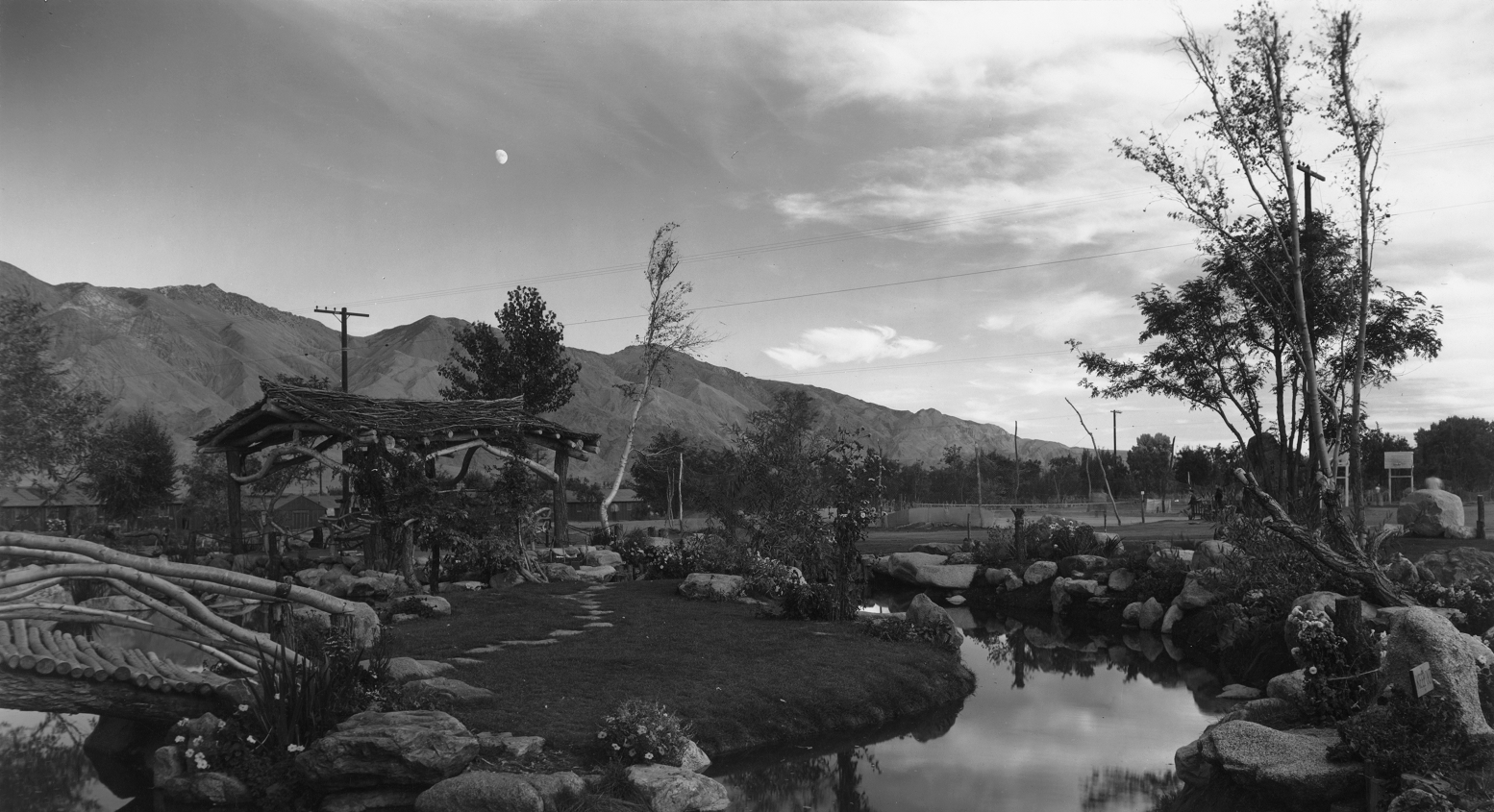 With a selection of documentary work by three leading twentieth-century photographers – Ansel Adams, Dorothea Lange, and Toyo Miyatake – this exhibition will provide a visual exploration of the healing power of Japanese gardens and art in the lives of internees at Manzanar Relocation Camp during World War II. These elaborately designed gardens were created under the harshest of conditions to provide a life-affirming sense of peace, while arts and crafts provided therapeutic support against devastating adversity. Works created by internees will be exhibited along with the photographs to bring the story of this important chapter of Japanese American history to life.
Portland Japanese Garden is honored to dedicate this exhibition to the late Irene Hirano Inouye, the founding Executive Director of the Japanese American National Museum and former President of the U.S.-Japan Council.
Find more information about this exhibition. 
Language Matters: There is no universal agreement on what we call the camps or the process that created them — 'incarceration,' 'internment,' and 'concentration' are a few of the terms that were interchangeably used. While some might find 'concentration' misleading because these were not extermination camps, the term predates the Holocaust and is by definition a place where large numbers of people are detained or confined under armed guard. We believe that awareness of the historical import of these words, as well as care in using them, is an important way to respect the collective memory of the victims and grants us greater power to confront injustice and cultivate peace.
"A concentration camp is a place where people are imprisoned, not because of the crimes they committed, but simply because of who they are. During World War II, America's concentration camps were clearly distinguishable from Nazi Germany's. Despite the difference, all had one thing in common: that people in power removed a minority group from the general population and the rest of society let it happen." – Joint Statement by Japanese-American National Museum and the American Gathering of Jewish Holocaust Survivors at the 1994 exhibition, America's Concentration Camps: Remembering the Japanese American Experience
---
Related Programming
In connection with the exhibition, Healing Nature: Gardens and Art of Manzanar, Portland Japanese Garden offers three virtual panel discussions that explore the significance and impact of gardens. With a special focus on gardens created by Japanese American internees at Manzanar and other camps during World War II, these discussions question and dive into why and how humanity seeks connection to nature through gardens, particularly during a time of civil injustice.
Tuesday, 11/17 (POSTPONED): "A Garden of Humanity: From substance to the highest form of creativity" 
Tuesday, 12/8 (POSTPONED): "Beautiful Resistance: A Garden as a Cultural Landscape at Manzanar" 
Friday, 12/18: "Bridging the Past and Future – Nikkei Cultural Legacies in America and the Evolving Role of Japanese Cultural Institutions"
The two-part panel discussion on 11/17 and 12/8 have been postponed due to our recent closure. We will be reaching out to all participants who have signed up for the events with a refund in your original payment method. Please allow 7-10 business days to receive your refund. For any questions, please contact Cathy Cheney, at ccheney@japanesegarden.org. We thank you for your understanding and patience during this time.